S
o,i took a walk to Clinique this weekend and temptation to the Clinique Chubby
Sticks sucked me into their zone :)
I always wanted a Clinique Chubby Stick and as i walked towards the variety and i mean VARIETY,it was really hard to choose which 1 i want!
They have the original Chubby stick for lips AND the new INTENSE Chubby stick for lips not to mention the new range for eyes!
Clinique's Chubby Sticks Intense are basically Chubby Sticks with added junk in the trunk while the regular ones are just a mellow type of color and more sheer than pigmented.
I do love the old shades because they are great for everyday wear(semi sheer).
But this review is on the Chubby stick for lips that i have purchased:)
The original is more sheer and glossy whereas the intense is very much pigmentated and has a splash of colour on your lip!
All Chubby sticks are fragrance free
I chose a very daring coral color called Heftiest Hibiscus from the intense range and i chose Graped Up from the original range.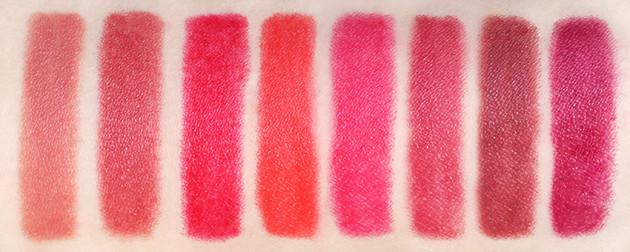 Chubby Stick Intense Swatches
The Original Chubby Stick Range-
The Shades: Richer Raisin, Graped-Up, Super Strawberry, Woppin' Watermelon, Chunky Cherry, Mega Melon, Whole Lotta Honey and Fuller Fig
The new shades are written in red -
Heaping Hazelnut, Bountiful Blush, Two Ton Tomato, Oversized Orange, Mighty Mimosa, Curvy Candy, Pudgy Peony and Voluptuous Violet


This is what i bought - Heftiest Hibiscus from the Intense range.
Heftiest Hibiscus
This is a orange coral color with hints of red and a bit of glossiness!
The Intense range is a more pigmented version of the Chubby sticks.This richer version is described as a "nourishing tinted balm halfway between sheer and opaque."
This color is opaque with some translucency where your natural lip color still comes through.Its a creamy ,balm like application that enables easy glide on application and feels comfortable to wear.
This color was extremely hydrating on my lips and lasted 4 hours.
I also like that the Chubby stick has twist up packaging and theres no sharpening required.
This is what i bought - Graped Up form the Original ran
ge
Graped Up
I love that no matter how dry my lips are,Cliniques original Chubby stick just
glides on and leave my lips soft and smooth!It like a gorgeous chic tinted lip
balm.
Do not let the picture fool you.This is a very light and glossy color.
The Clinique Chubby Sticks are lusciously glossy, hydrating, and pretty
the staying powder isn't all that great, but they're super easy to apply and
perfect for Spring/Summer :)
1. Moisturizing and balmy in texture.
2.Variety of colors to play with suitable for everyday use
4. Other than Oversized Orange none have glitter particles..
1.The price! Its R215,quite pricey!